YOU ONLY NEED A TEST IF….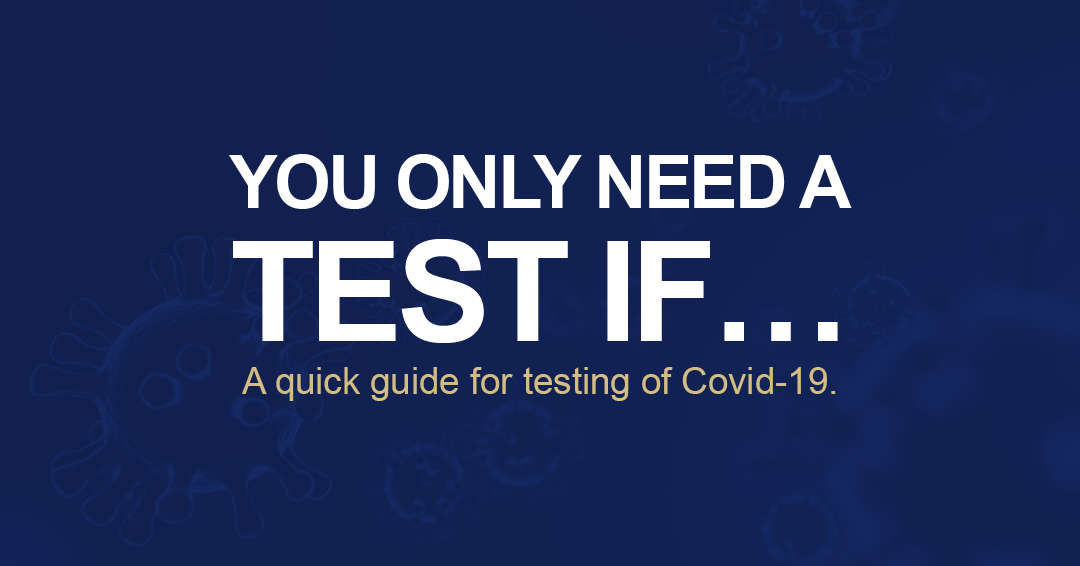 With an influx of fake news and mis-information, we have compiled a handy guide as to what you must be aware of when it comes to testing and Covid-19. You can also download it as a handy booklet to keep for easy reference here.
Am I at risk?
You are only considered at risk if you have had DIRECT contact with a lab diagnosed person.
When must I test?
You have had DIRECT CONTACT with a known patient and are symptomatic.
If you are admitted to hospital.
What is direct contact?
Not wearing a mask or PPE, being in close proximity of less than 1.5m for longer than 15 minutes, kissing, sharing crockery or utensils, not sanitising after shaking hands, someone coughing on you etc. 
Do I need to isolate?
If you have had DIRECT contact with someone who has a LAB CONFIRMED diagnosis of COVID-19, you need to self-isolate for 14 days.
If you have had contact with someone who has had contact with a known positive patient (CONTACT OF A CONTACT) you do NOT need to isolate.
It's that simple.
How long should you wait before testing?
5-6 days after contact with patient (If you have direct contact with a positive patient & you are symptomatic)
Your incubation period is 2-14 days. Going for a test the day after exposure is of no value and not clinically indicated. The test WILL BE NEGATIVE if you are in your window period of infection.
Must I get tested again?
You do not need repeat testing after 14 days of self-isolation in order to return to work.
Thank you & be safe.