The benefits of a Bridging programme in a mainstream school
My name is Judy Hurrie and I am a single mom to a special young man of 7, Mazithi, who brings much joy to my life. I have been teaching for many years and I am incredibly passionate about my job and all it entails, especially when helping a child to grow emotionally and socially as they develop essential skills to journey through life. I have spent many years in England and have taught from Pre School through to the Intersen phase.
With the hectic pace of life and the ever-increasing pressure on our precious children, I am blessed to work at Knights Preparatory as the Grade 4 and 5 Bridging class teacher. Knights Preparatory is a place where the individual needs and the uniqueness of a child is not only recognised but celebrated within the scope of a mainstream school.
At Knights Preparatory, we make every effort to meet the child where they are and encourage what they can do whilst facilitating the areas they are most challenged in. In the Bridging classroom, where the classes are smaller, we are in the wonderful position of being able to quickly note how a little one is feeling on a particular day. From the expressions on their faces (as much as Covid allows these days) to noticing the unusually quiet child or the overly emotional child. Our day starts the minute we greet them at the door and many of our learners benefit from a firm hug or encouraging word as they start their lessons.
A child who has a sense of being noticed and sees their classroom as a haven is more likely to make progress. Conversation and interaction form an important part of our day as our children learn life skills, alongside English and Mathematics. Our classroom is a microcosm of the world at large where we resolve conflict together and learn to work together as a team. Our #YoungKnights are the leaders of tomorrow and this is encouraged throughout the day.
Many of our learners who are challenged academically would come to me for English and Mathematics where they are assisted with their learning by moving at a slower pace, using different strategies to help them progress through the same curriculum as the mainstream children. In the Bridging class, we complete assessments more informally, choosing a day when they are less anxious or tired. This flexibility within my classroom allows for my learners to become more confident and assists with getting the best from them.
Some learners will pass through our Bridging programme for a short time and others will stay in Bridging throughout their primary school experience.
Whilst our learners may need assisted learning academically, they often shine brightly and excel in other areas. We have learners who play cricket at provincial level and shine brightly in sport. Others come to life on stage as they dance, sing or speak with incredible skill and a talent that has often brought a tear to my eye. Others show a level of compassion and kindness through all their challenges that continues to blow me away daily and others show tremendous skill in the robotics and coding space.
We are all unique and wonderfully made in the image of God, exactly as He planned us to be. Our #YoungKnights display attributes and talents that are distinct, special and unique, requiring one on one attention and nurturing.
A culture of mutual respect, tolerance and belonging is instilled in our #YoungKnights within the mainstream school environment of Knights Preparatory and individual differences are, therefore, made provision for. Our Bridging programme ensures that this culture is wonderfully encouraged.
Our school is unique as we endeavour to grow our children, with God's help, spiritually, academically, physically, emotionally and socially into little people who will change the world. It truly is a blessing to see!
Psalm 139:13-14 You alone created my inner being. You knitted me together inside my mother. I will give thanks to you because I have been so amazingly and miraculously made. Your works are miraculous, and my soul is fully aware of this.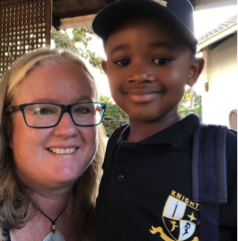 Judy Hurrie
Grade 4-5 Bridging Class Teacher
Judy Hurrie is a single mom to a special young man of 7, Mazithi. She has been teaching for many years and is passionate about her job and all it entails, especially when helping a child grow emotionally and socially. She has spent many years in England and has taught from Pre School through to the Intersen phase.